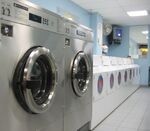 De Wasserette in The Loft wordt ongetwijfeld een succes en momenteel wordt de laatste hand aan de inrichting gelegd.
Doelstelling
Edit
Teneinde tegemoet te komen aan de verzuchtingen van menig bewoner van The Loft werd in ruim overleg met alle betrokken partijen beslist de wasserette als een heuse kleine wasserij annex strijkboetiek in te richten.
De bewoners van The Loft zullen van 's morgens 5u00 tot s'avonds 11u00 een beroep kunnen doen op deze was- en strijkdienst zonder hiervoor onnodig het pand te moeten verlaten.
1ste Fase
Edit
In een eerste fase worden 7 kleine wasmachines en 2 industriële wasmachines, ingezet, samen met 1 grote strijktafel (roltafel) voor het platgoed en een 3-tal strijkplanken.
2de fase
Edit
Wanneer na verloop van tijd mocht blijken dat het merendeel van de bewoners er de voorkeur aan geeft hun wasgoed binnen te brengen om gewassen en gestreken terug af te halen, zullen 1 tot 2 mensen (M/V) in dienst worden genomen.
Community content is available under
CC-BY-SA
unless otherwise noted.