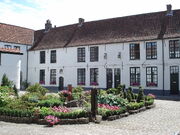 Oorspronkelijk was het
Pleintje van Pierlot
een heel klein pleintje dat slechts bestond uit een paar vierkante meter betonnen tegels met precies in het midden één tegel die was weggehaald om er een boompje neer te zetten. De bewoners rondom het pleintje hadden indertijd voor een dennenboom geopteerd omdat ze die dan gedurende de kerstperiode konden volhangen met lichtjes.
Toen Emmanuelbad bekend werd bij het grote publiek en steeds meer dagjestoeristen hun hart kwamen ophalen in de badstad, besloot men in gemeenschappelijk overleg een heus plein aan te leggen dat helemaal kaderde in het plaatje dat de bewoners van Emmanuelbad zich hadden voorgesteld.
De tegels en kasseien om en rond het pleintje werden verwijderd, de dennenboom werd neergehaald en er ontstond één grote oppervlakte die volledig naar wens kon worden ingericht. Het thema kastanjeboom stond centraal.
Het resultaat ziet er schitterend uit.
"Pierlot's square" was originally a very small square made with some square concrete pavers. The central pavement stone had beren removed and a tree planted in the empty space. The nearby home owners originally opted for a pine tree because each year they transformed the old tree into a huge Christmas tree enlightening the square and the adjacent houses.
As Emmanuelbad became known worldwide and more visitors came to enjoy the growing holiday resort, Connet, invited the villagers and home owners to a meeting in which the future plans for the small square was unveiled...
The concrete pavement would be replaced and the old (overaged) pine tree was to be removed. The entire area would undergo a facelift with the focus of a large chestnut tree.
The result is astonishing
Community content is available under
CC-BY-SA
unless otherwise noted.