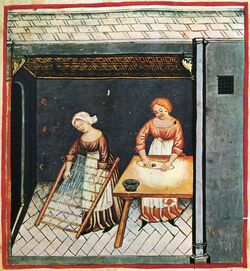 Don Camillo is een gezellige warme pizzazaak in het winkelcentrum Agatha dat zich in Kantstad, de (provinciehoofdstad van Ziltland) bevindt.
Dagelijks worden diverse pasta's en pizza's op artisanale wijze vervaardigd.
Ons motto
Edit
Hier is alles nog van meesterhand,
Niets komt hier van de band.
Bij ons geen sausjes uit bokaal.
Gebakken wordt op kleine schaal
De eigenaar gaat er prat op uitsluitend verse producten te verwerken en is apetrots op de scharreleieren die dagelijks in alle vroegte worden geleverd.
Producten
Edit
Cappelletti
Cavatelli
Conchiglie
Farfalle
Fettucini
Gnocchi
Lasagne
Linguini
Maccheroncini *Mezze Penne
Tagliatelli
Spagetti
Tortellini
Vermicelli
Benevens een uitgebreid gamma aan pasta, vindt U ook pizza's, à la minute klaargemaakt met verse basisproducten in de houtgestookte pizzaoven. Op zaterdagen staan de klantdan ook aan te schuiven voor de versgebakken reuzepizza's.
Pizza Bolognese
Pizza al Funghi
Pizza Quatto staggioni
Pizza Margherita
Pizza Prosciutto
Pizza slices (1/4 of 1/8 van een pizza)
Tijdens het wachten kan u genieten van een glaasje Italiaanse wijn.
Op aanvraag levert de pizzakoerier uw pizza bij u thuis of op kantoor.
Openingsuren
Edit
Dagelijks geopend van 10u00 tot 20u00
Gesloten op zondag en maandag